Choreographic Objects est une exposition de William Forsythe à découvrir à la galerie d'art contemporain Gagosian jusqu'au 22 décembre. Chorégraphe américain, mondialement reconnu, Forsythe a influencé des générations entières d'artistes. Au cours de sa carrière singulière, il a développé un vaste répertoire de chorégraphies de ballets avant-gardistes et expérimentaux, des œuvres de théâtre et de danse sans proscenium, mais aussi une plateforme digitale en accès libre consacrée à l'analyse de la danse, la notation et l'improvisation.
En parallèle, Forsythe travaille depuis plus de vingt années à des installations, à des œuvres cinématographiques et à des sculptures interactives distinctes. Ces œuvres qu'il appelle "objets chorégraphiques", ont pour but de révéler au public ses capacités inconscientes en matière de chorégraphie.
Les trois œuvres exposées à la galerie Gagosian
Black Flags (2015), un duo entre deux robots industriels, d'une durée de 28 minutes, dont la commande initiale avait été faite par les Collections Nationales de Dresde. Tout en brandissant d'immenses bannières en soie qui s'enroulent et se déploient à travers l'air tels des drapeaux héraldiques, les deux robots vrombissent et s'unissent de manière parallèle et synchronisée, puis se séparent et s'éloignent, pour finalement se retrouver à l'unisson, majestueusement et dans un calme absolu en contrepoint.

Towards the Diagnostic Gaze est par contraste à la première, une œuvre à petite échelle. Un plumeau situé au centre d'une pierre tombale, invite le visiteur à le saisir et à immobiliser ses énergies nerveuses. Les plumes bougent et traduisent nos microsmouvements.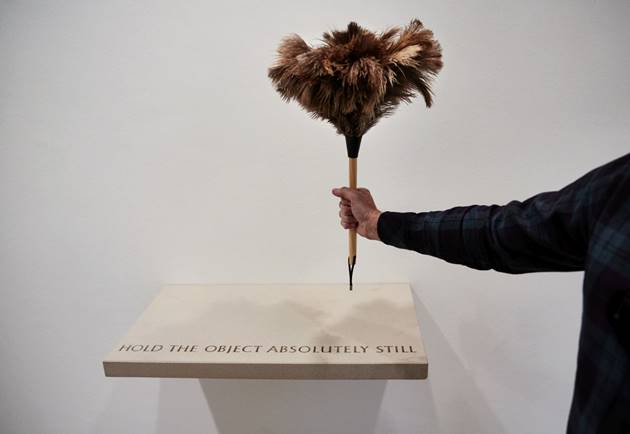 Aligninung est la dernière d'une série d'installation vidéos réalisée par Forsythe. Deux danseurs – Rauf Yasit et Riley Watt – s'empoignent dans des enchevêtrements complexes, favorisant des casse-têtes optiques dans lesquels il est difficile de déterminer où un corps se termine et l'autre commence.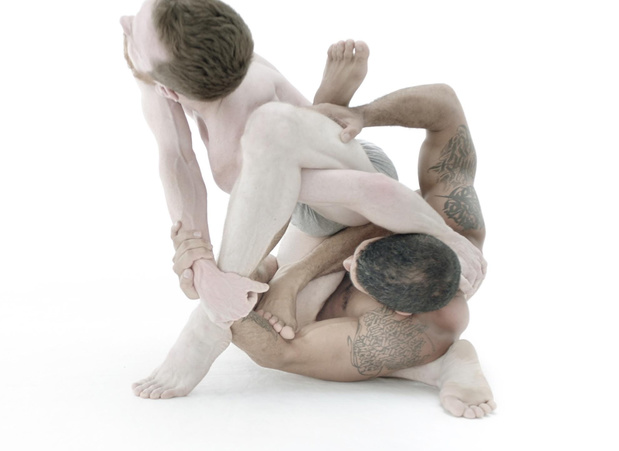 La carrière internationale de William Forsythe
Depuis 1989, Forsythe a réalisé de nombreuses installations : The Books of Groningen »(1989) ; Tight Roaring Circle, Artangel (Londres, 1997); « Nowhere and Everywhere at the Same Time », Creative Time (New York, 2005); et « Black Flags », SKD – Les Collections Nationales de Dresde (2014–15).
Les œuvres chorégraphiques de Forsythe figurent au répertoire des ballets les plus prestigieux au monde comme le Ballet National de l'Opéra de Paris, le Ballet Mariinsky de Saint-Pétersbourg, le Ballet Semperoper de Dresde, le Royal Ballet de Londres, le New York City Ballet, le San Francisco Ballet, le Boston Ballet et le National Ballet of Canada. Forsythe a fondé et dirigé The Forsythe Company de 2005 à 2015. Il a développé de nouvelles approches sur la documentation de la danse, la recherche et l'éducation. Son logiciel Improvisation Technologies: A Tool for the Analytical Dance Eye est utilisé comme un outil d'enseignement par des compagnies professionnelles, des conservatoires de danse, des universités, des programmes d'architecture post-universitaires et des lycées du monde entier.
En décembre, à l'occasion du Festival d'automne, Forsythe participera avec Ryoji Ikeda au projet collaboratif « William Forsythe x Ryoki Ikeda » à la Grande Halle de la Villette avec une œuvre de grande envergure Nowhere and Everywhere at the Same Time No.2, dans laquelle les visiteurs seront invités à déambuler dans un vaste champ de pendules suspendues, créant ainsi une gamme infinie de chorégraphies individuelles.
WILLIAM FORSYTHE – CHOREOGRAPHIC OBJECTS
GAGOSIAN 26 Avenue de l'Europe 93350 Le Bourget (Paris) site web